Checklist Different coffee shops around the Kingdom of Cambodia, from one province to the next, each have a unique design. Some people prefer to be natural, while others prefer to be traditional and civilized. Make a list of all of these cafes, everyone. How many different places have you visited? Remember to share the wishlist for a visit in 2022.
1.MOKO
If we look from the outside, this shop is simple, but it is nice to go inside. It's strange to feel that every corner is a place with beautiful photos, all fresh plants. There are clouds flying all over the shop, like camping on mountain. When it comes to drinks, there are many flavors with attractive colors.
Location: MOKO The Concept-Plant
Location: https://goo.gl/maps/HgTo9hzsmKur9AtR9
Phone number: 010 299 511
Facebook: MOKO
2. Cafista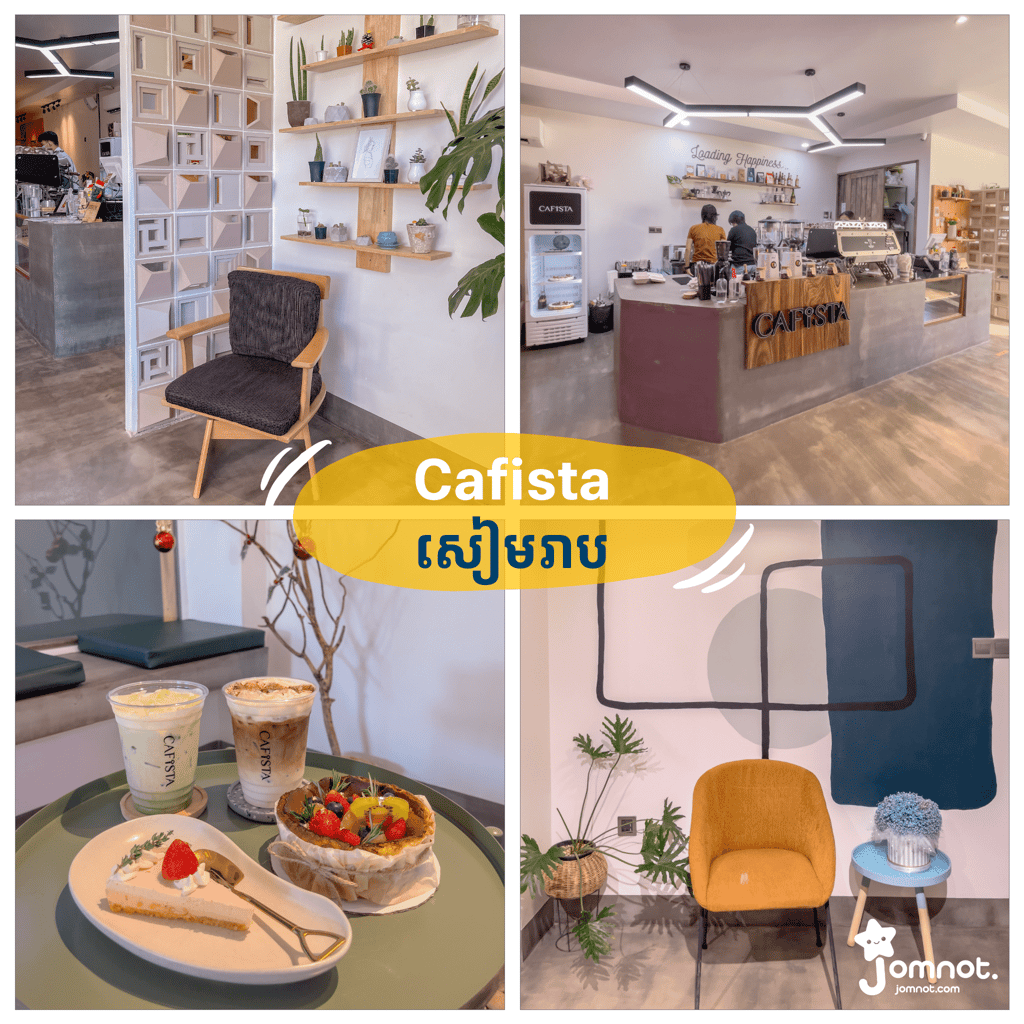 Cafista Korean style cafe with a warm & cozy atmosphere, suitable for a date with friends or honey. Cafista has beautiful decorations all over the shop that looks attractive to take photos because every corner is Instagrammable. In particular, there are likely drinks, and cakes are delicious.
Location: https://goo.gl/maps/Gy7nYv5dmQHEU2mK6
Phone number: 0968121194
Opening hours: 7:00 AM - 10:00 PM
Facebook: Cafista Siem Reap
3. About Blue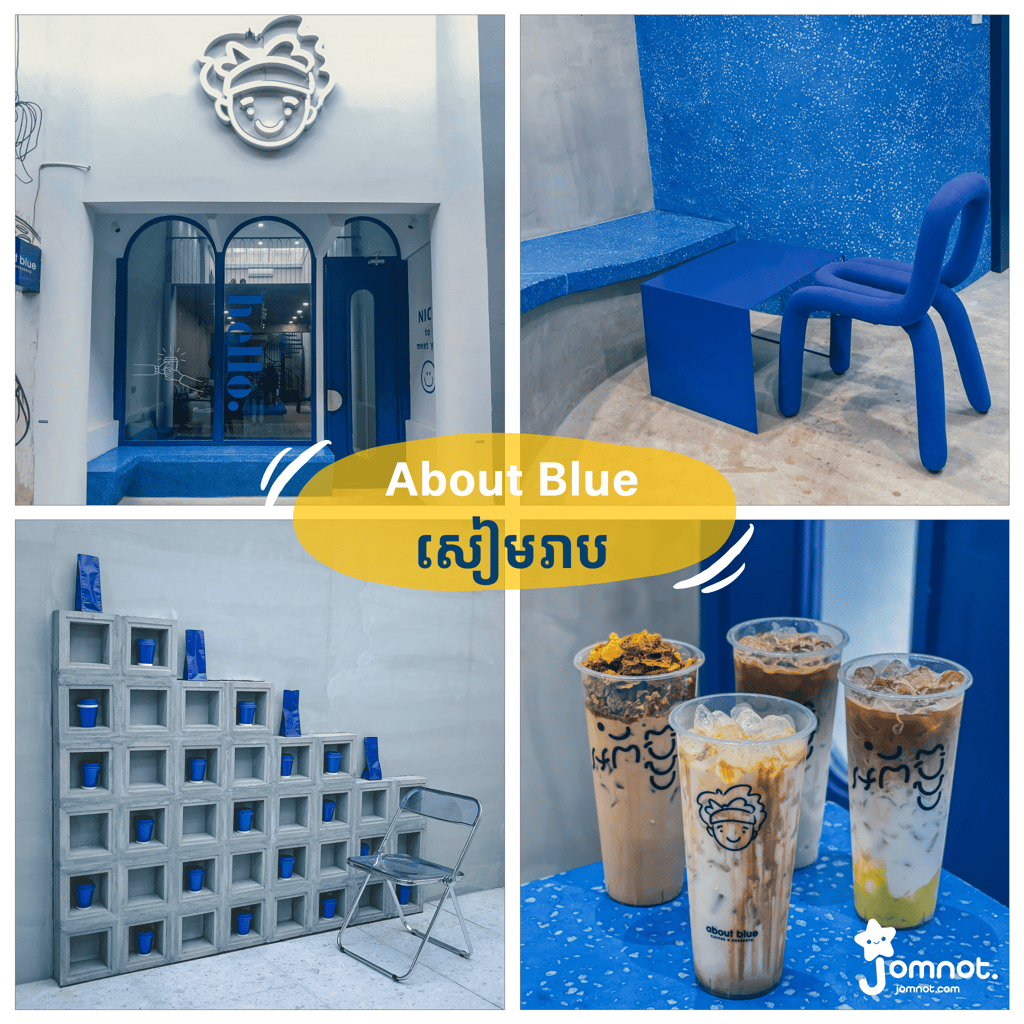 Just seeing the color of the shop makes you want to go in. Really loves this cafe because it is full of favorite colors Just walk into the store and feel like wanna taking a photo. You will see the stairs up to the floor of the dwarf loft, It's really unique. And for tables, cabinets, chairs are also different because I have never seen a chair like this before. In general, just seeing the decoration also wants to come and try their drinks. The populoar drinks in the shop are 4 types that can be served with coffee and also be served with milk tea, with coffee flavor, coffee banana, coffee taro and coffee avocado.
Location: https://goo.gl/maps/RGt4xximQoz1pWxy5
Phone number: 070 663 536
Opening hours: 7:00 AM - 8:00 PM
Facebook Page: ABOUT BLUE
4. Next Coffee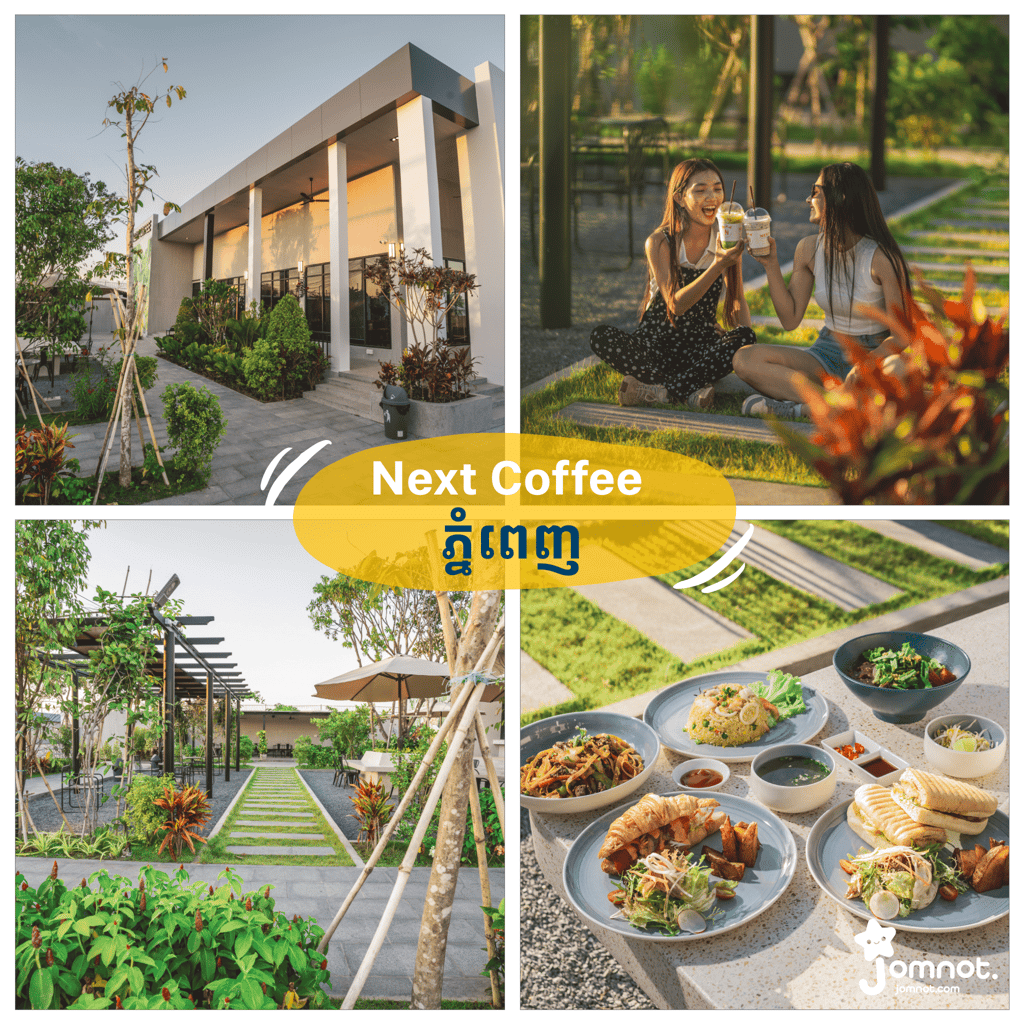 ""Next Coffee,"" an outdoor coffee establishment, invites you to stop by and sample some wonderful coffee and cuisine. For the most part, the shop's interior is clean and cheerful. Come in and take a seat to study or do any task. Take great shots of all the scenes and remember to come on Saturdays and Sundays.
Phone number: 077 225 878
Opening hours: 6:30 AM - 9:00 PM
Map https://goo.gl/maps/1KHKbPRRrPQeWv2S8
Facebook: Next Coffee
5. ION coffee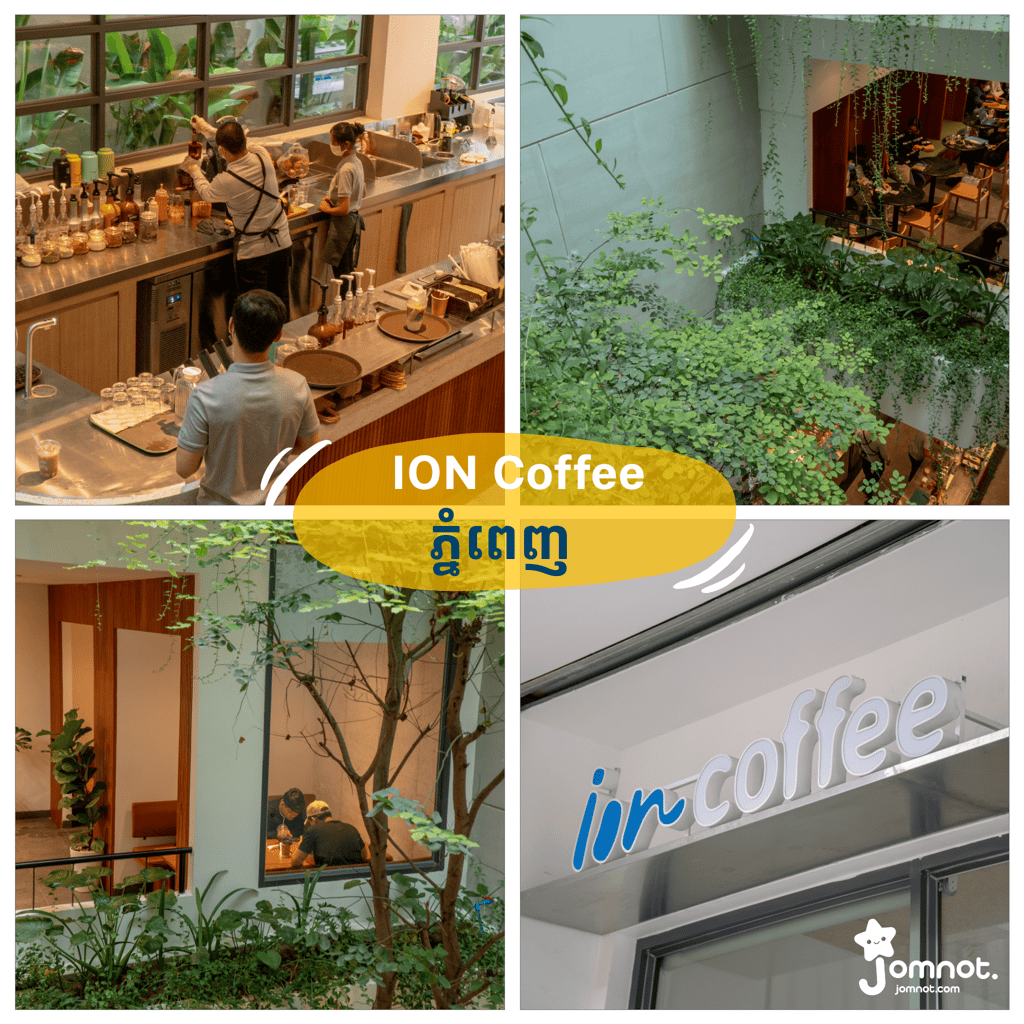 Let's go to the new coffee place at ION Coffee. Come with your friends to do homework or take photos, taste new drinks because The coffee here is delicious and the service is fast. From the outside, it looks like a normal coffee shop, but inside, it feels more beautiful than a coffee shop. The decoration of the shop is natural, green, has a fresh atmosphere. For the location behind Toul Tompong High School.
Facebook: ION Coffee
Opening hours: 06:30 am - 07:30 pm
Map: https://goo.gl/maps/GExMo2t3m2C4DxWi9
6. Analog Coffee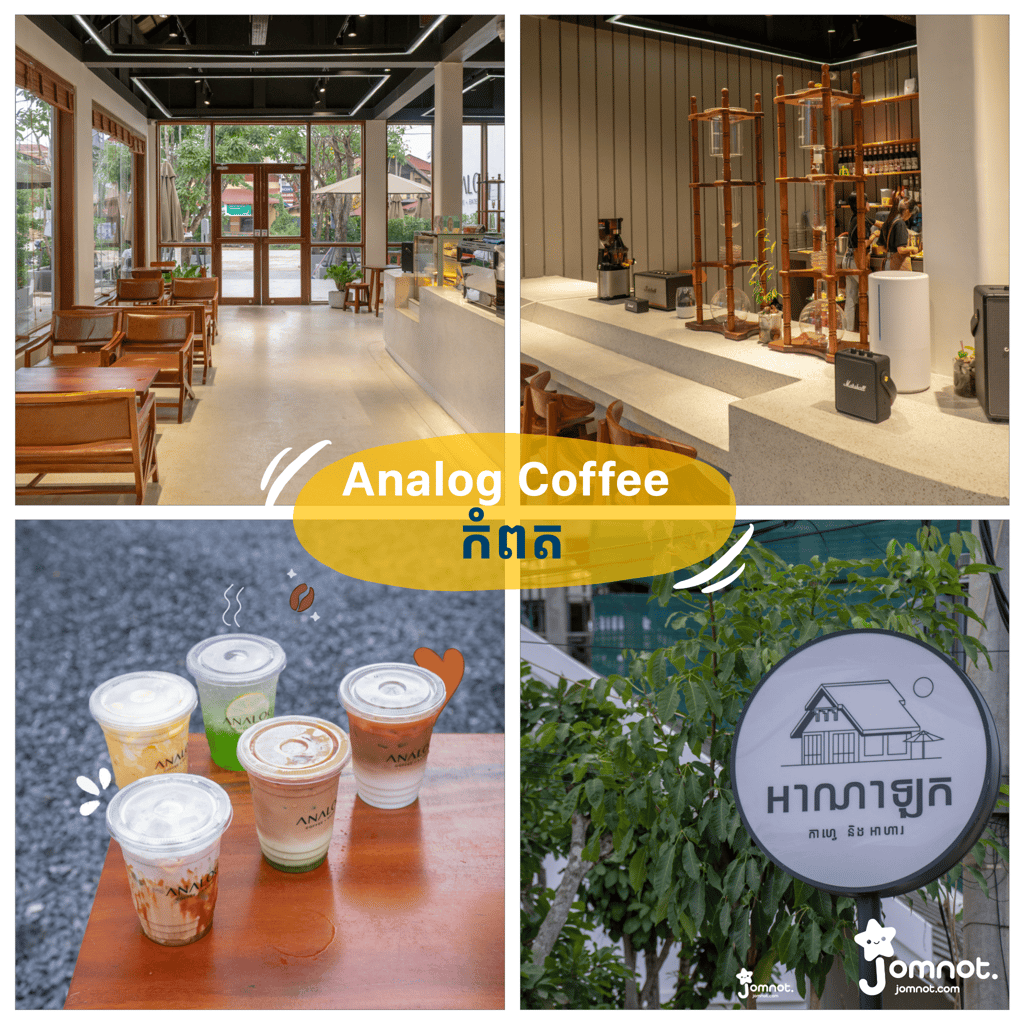 I'm sure most of you are familiar with this cafe since if you visit Kampot, you will. Have coffee there since the coffee is great and there are a variety of drinks to choose from, all of which are Signature drinks. Furthermore, the shop's environment is quite clean, and the decor is attractive.
Facebook: Analog coffee and eatery
Opening hours: 07:00 am - 07:00 pm
7. Sroyal Cafe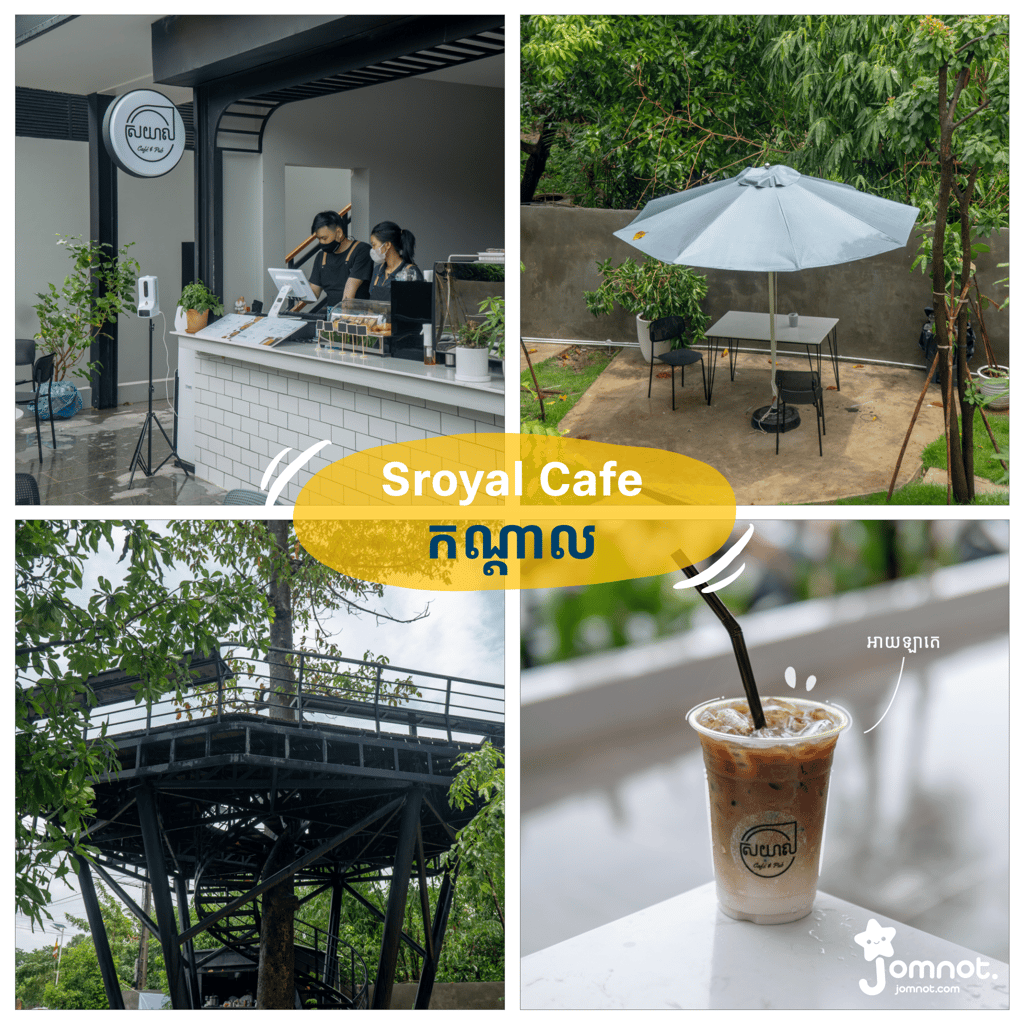 Sroyal Coffee, a coffee shop on the outskirts of the city, is almost an hour's drive from Phnom Penh, plus a ferry ride from Phnom Penh ~ Arei Kasat. Their shop is uniquely beautiful and spacious, come and take photos in any corner, the atmosphere is beautiful Fresh, relaxing, but both drinks and food are delicious.
Facebook Page: Sroyal - Sroyal Café & Pub
Opening hours: 07:00 am - 06:30 pm
Telephone number: 010 908 988
Map: https://goo.gl/maps/Vw8wwuNhTpskPMhz7
8. Cafe khleang ambel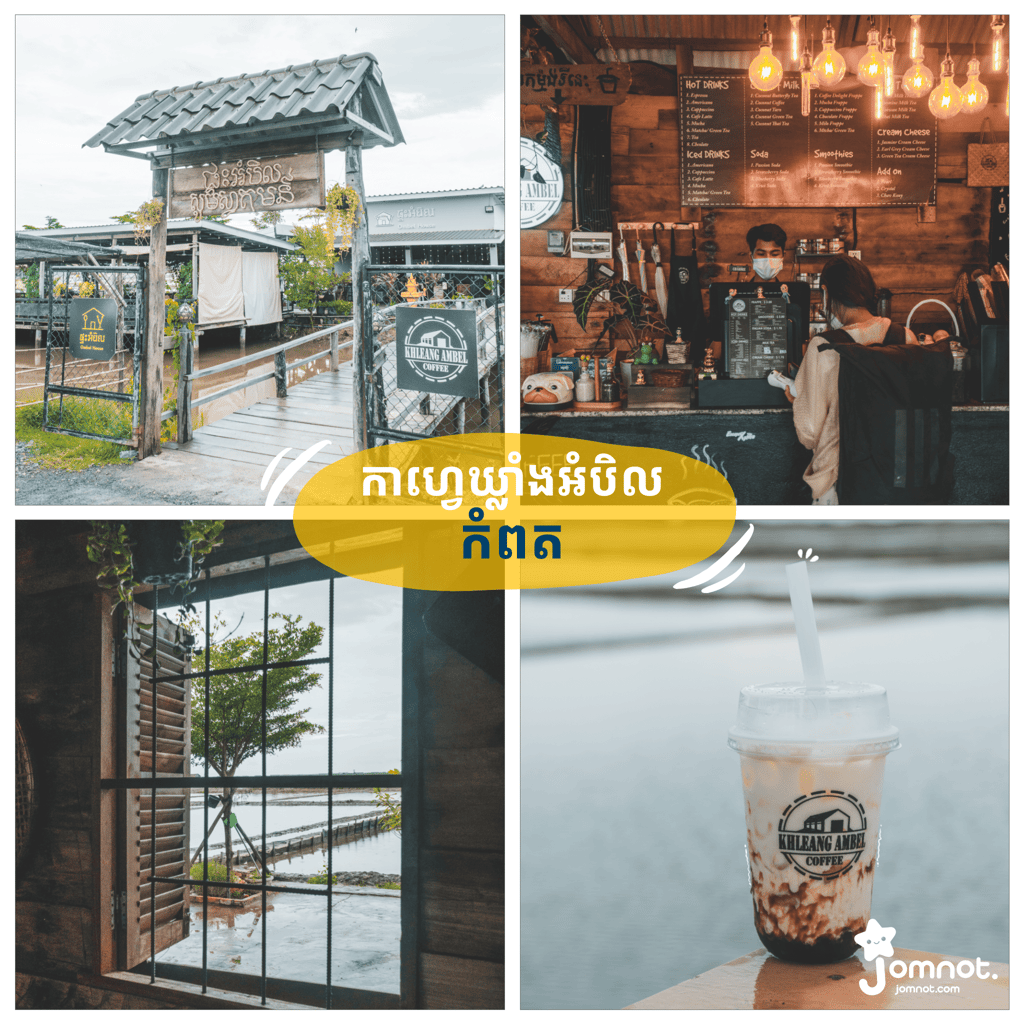 If you visit Kampot, be sure to stop by this cafe, which is only an 8-kilometer ride away. The atmosphere is serene and fresh, and you may sit and enjoy coffee from Kampot's surrounding cafes, which are full of salt farms. Don't worry if you don't know how to drink coffee; there's mik tea for you. It's also crucial to keep the inside of the shop clean. Every outdoor layout includes a huge salt field, a wide atmosphere, and plenty of opportunities for photography.
Facebook: Khleang Ambel Coffee
Opening hours: 07:30 am - 07:30 pm
Phone number: 0964288600
Map: https://goo.gl/maps/xgYLWnKnmdjv1U6q6
9. Chhouk Western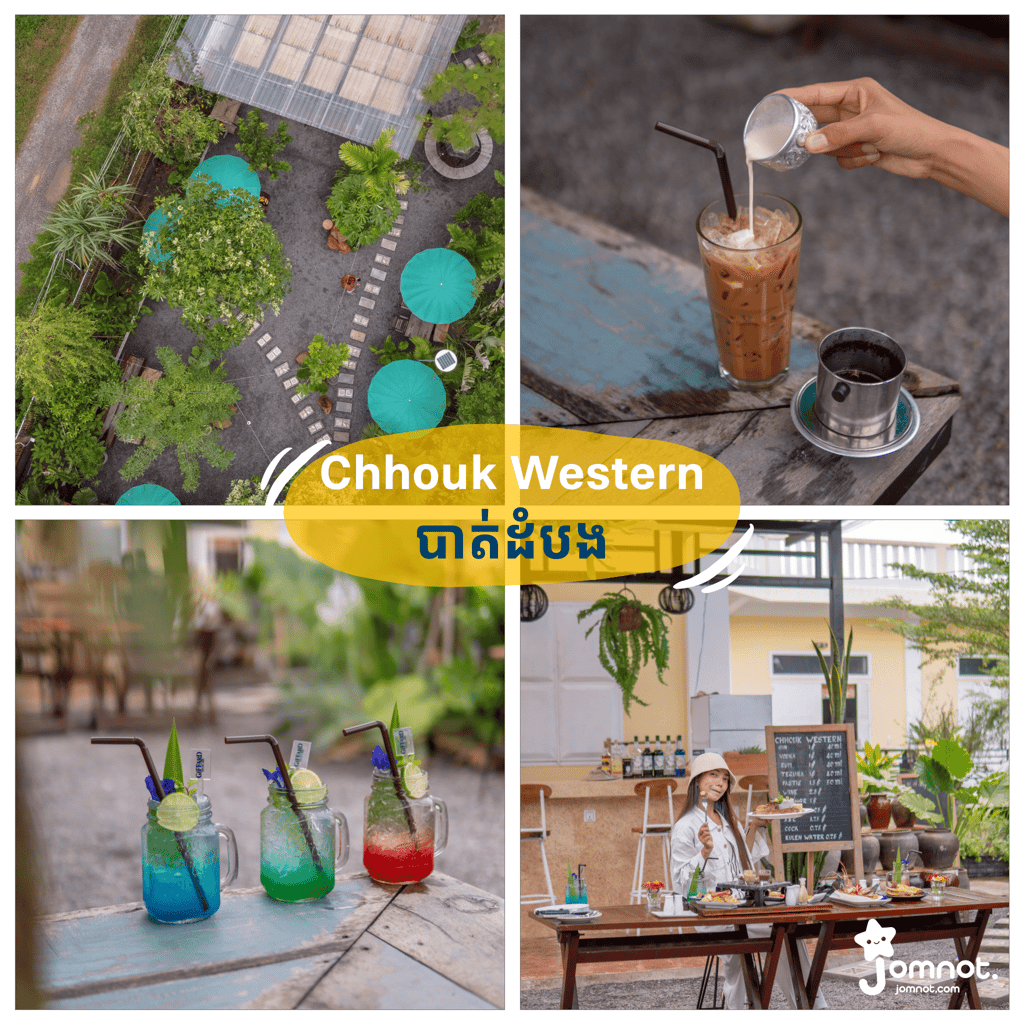 Chhouk Western is a coffee shop where we adore everything about it, especially the outdoor business atmosphere with plants and flowers that make us feel relieved and rejuvenated as soon as we step in. When it comes to coffee and beverages, the quality is comparable to Phnom Penh. The other is food, both in terms of quality and flavor.Most of the food here is standard European, cooked by five-star chefs.
Tuesday to Sunday from 10:00 am - 8:00 p every Monday, closed for one day
Phone number: 012580729
Location: https://goo.gl/maps/vGS2aYcMHMcB
10.Romcheik 5 Rooftop Café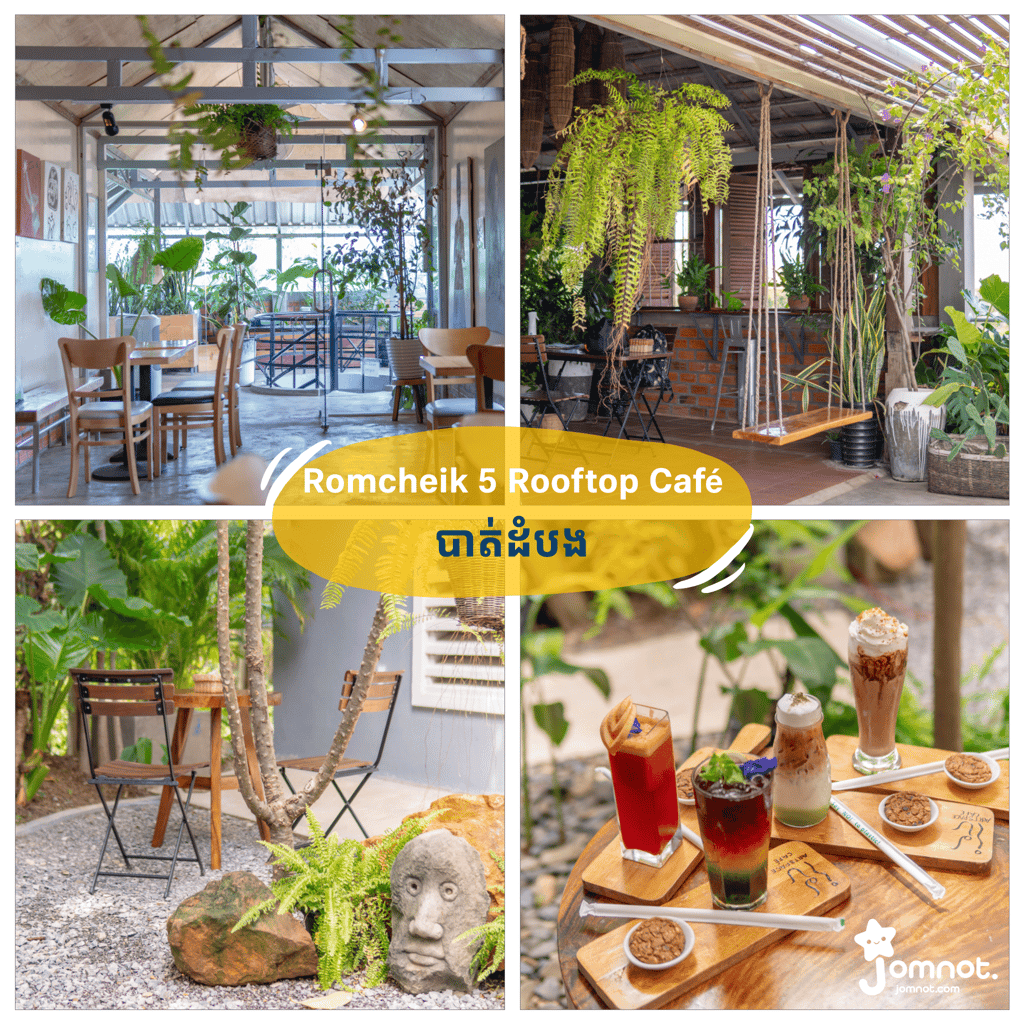 loves this cafe in the rice barn area of ​​Battambang city. The decoration of the shop and the food are really pretty. Extremely creative and attractive for the shop atmosphere is on the rooftop full of nature, art, paintings should be Relax and refresh and here is not just a cafe with a variety of drinks, everyone can also come for lunch. Morning and noon, finish with a variety of delicious European dishes.
Tuesday to Friday from 10:00 am - 5:45 pm
Saturday Sunday Open from 8:00 am - 5:45 pm
Every Monday, one day off
Phone number: 077490821/087677792
Location: https://g.page/countrysideartmuseum-org?share
11. La Chou Café​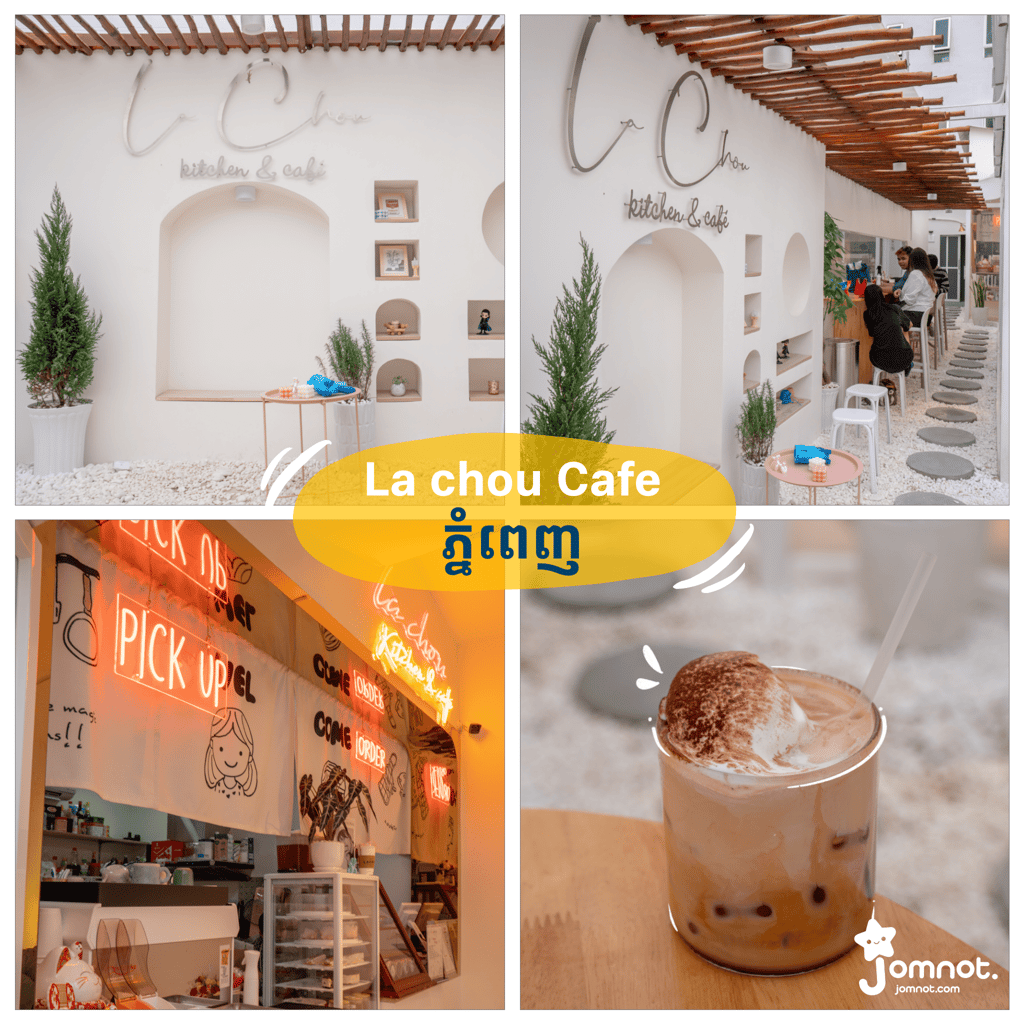 New cafe in the air, just walk in immediately you will surprised because this coffee shop feel like we relaxing the brain with the natural air on The roof and the atmosphere here feel like you are visiting Seoul. Setting up a Korean-style outdoor shop, you like to take photos, come here, Instagrammable guaranteed.
Facebook Page: La'Chou - Kitchen & Café
Opening hours: 08:30 am - 07:00 pm
Map: https://goo.gl/maps/WCEmndDa2pkE1H7p7
12. Domnak coffee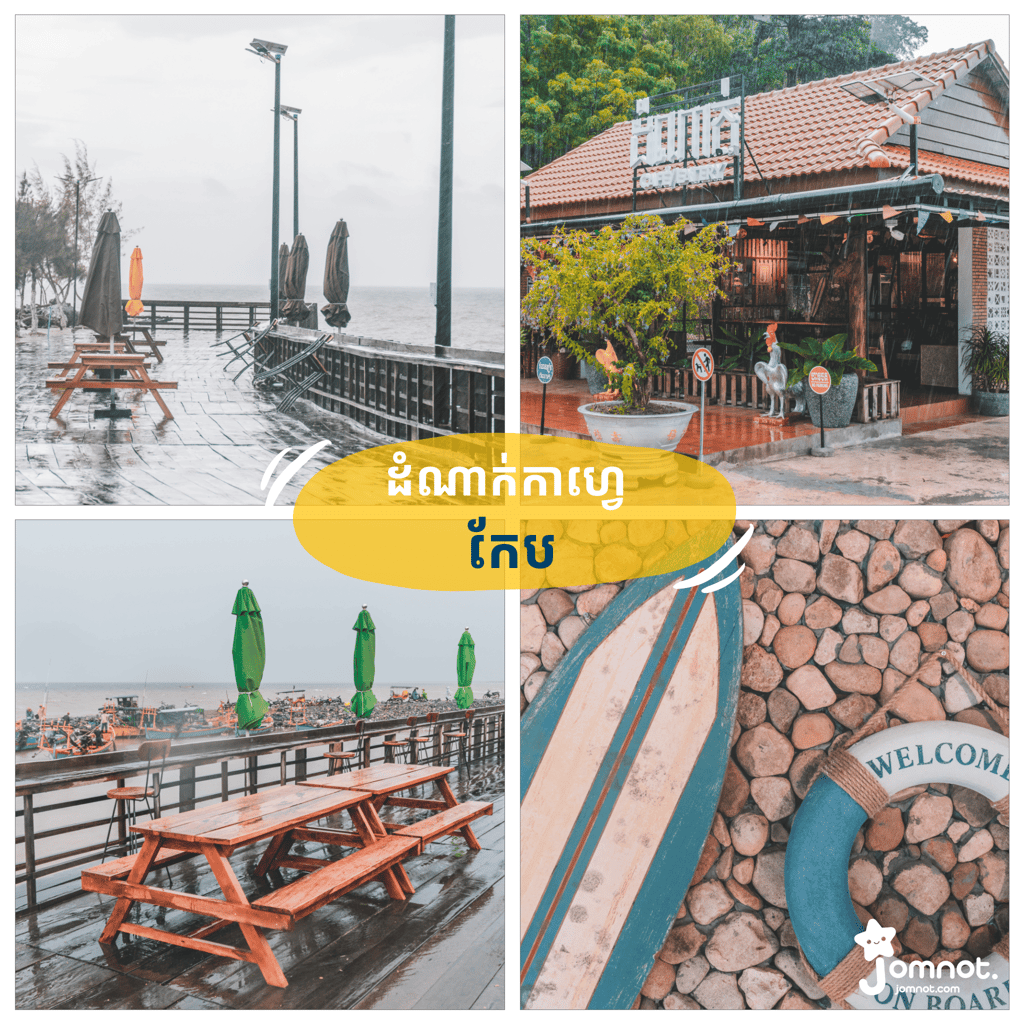 Sit and drink coffee and watch the waves of the sea, this kind of atmosphere is not available in many places Come to relax your head, breathe fresh air, smell the sea.Facebook: Domnak Café & Eatery
Opening hours: 08:00 AM - 05:00 PM
Contact: 071 888 2227
Map: https://goo.gl/maps/FcKgUa5UsyFJ1E7Y8
13. Cafe Espresso Roastery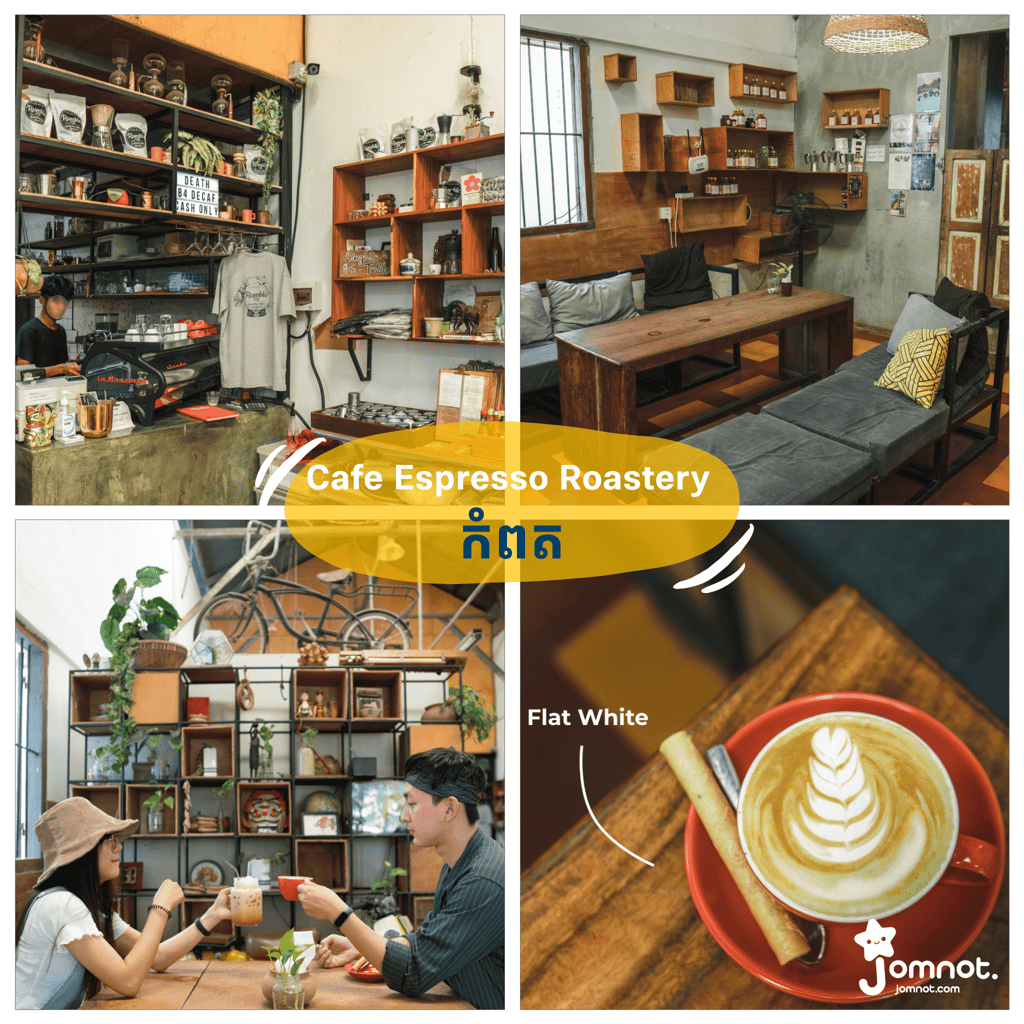 This time, I would like to introduce a coffee shop as a guarantee that I will never miss this Australian coffee shop in Kampot because That not only is the cafe full of coffee and delicious food, the decoration of the shop is captivating, he keeps Old materials will be created that look attractive, and most importantly, he also sells new roasted coffee beans. And can be ordered according to your preferences.
Facebook Page: Cafe Espresso Roastery Kampot
Location: Duren Roundabout, Kampot Province
Location: https://goo.gl/maps/iwFruspkdct6SHmB8
14.Temple Coffee n Bakery
Missed school for a long time, do you miss your desk? And miss you sitmate? Now everyone can come and sit at that table again, drink coffee and study only at Temple Café and Bakery, Street 51, around Boeng​ KengoKng​, This is the fourth branch in Phnom Penh. This coffee shop is so beautiful.
Facebook page: Temple coffee n bakery
Location: St. 51, Boeung Keng Kang Branch, Phnom Penh
Location: https://goo.gl/maps/KiWugCxD779q1AL56
Opening hours: 7am - 12pm
15. Pleang Chan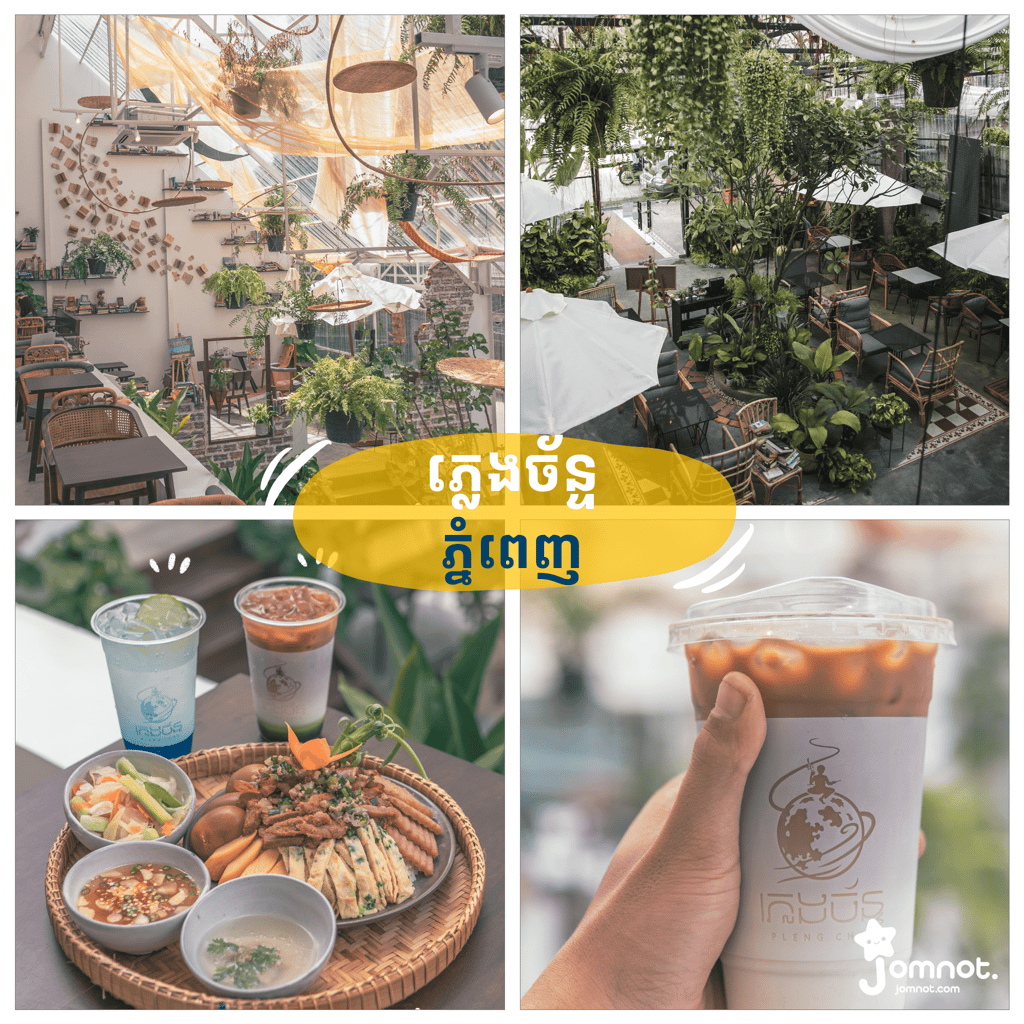 A cafe full of love and dreams that everyone calls pleang chan. A hidden vintage cafe Mysteriously in a lush garden.
The beauty of the cafe is truly refreshing beyond description, like in a city center park. Is full of paintings and books all over the shop.
Facebook Page: Pleng Chan
Phone number: 093802525
Map: https://g.page/plengchan_norodom?share
16. Phnom Coffee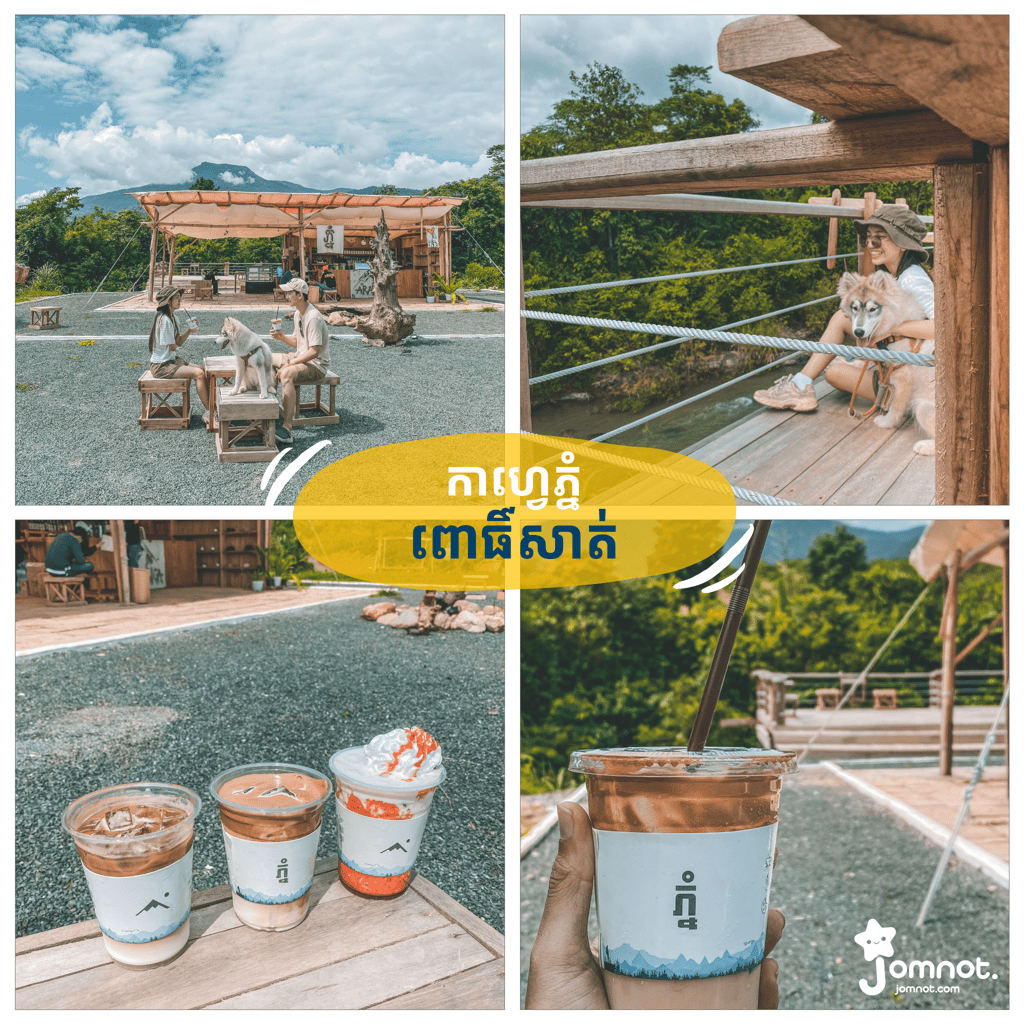 Introducing a mountain coffee shop. Some of you may have heard about Phnom Coffee, which is located at the foot of Mount 1500 Veal Veng district in Pursat province. The coffee is excellent right down to the last drop, and their coffee cup is adorable.When you arrive at the Veal Veng district, the ambiance is wonderful and immediately refreshing, letting you forget about your worries. The view from Phnom Coffee is surrounded by mountains, with a waterfall flowing behind the café. The best sensation is enjoying a cup of coffee while admiring the landscape. The café's layout, as shown in the photo, makes it even more appealing, particularly the layout of the cafe in the heart of Phnom Samkos, which resembles that of Mount Fuji in Japan and has an aesthetic ambiance. If you enjoy photography and are a nature lover, this café is the spot for you.
Location: Phnom 1500, Pursat Province
Map: https://goo.gl/maps/KiVAtBatM2Xqeona6
17. Kinin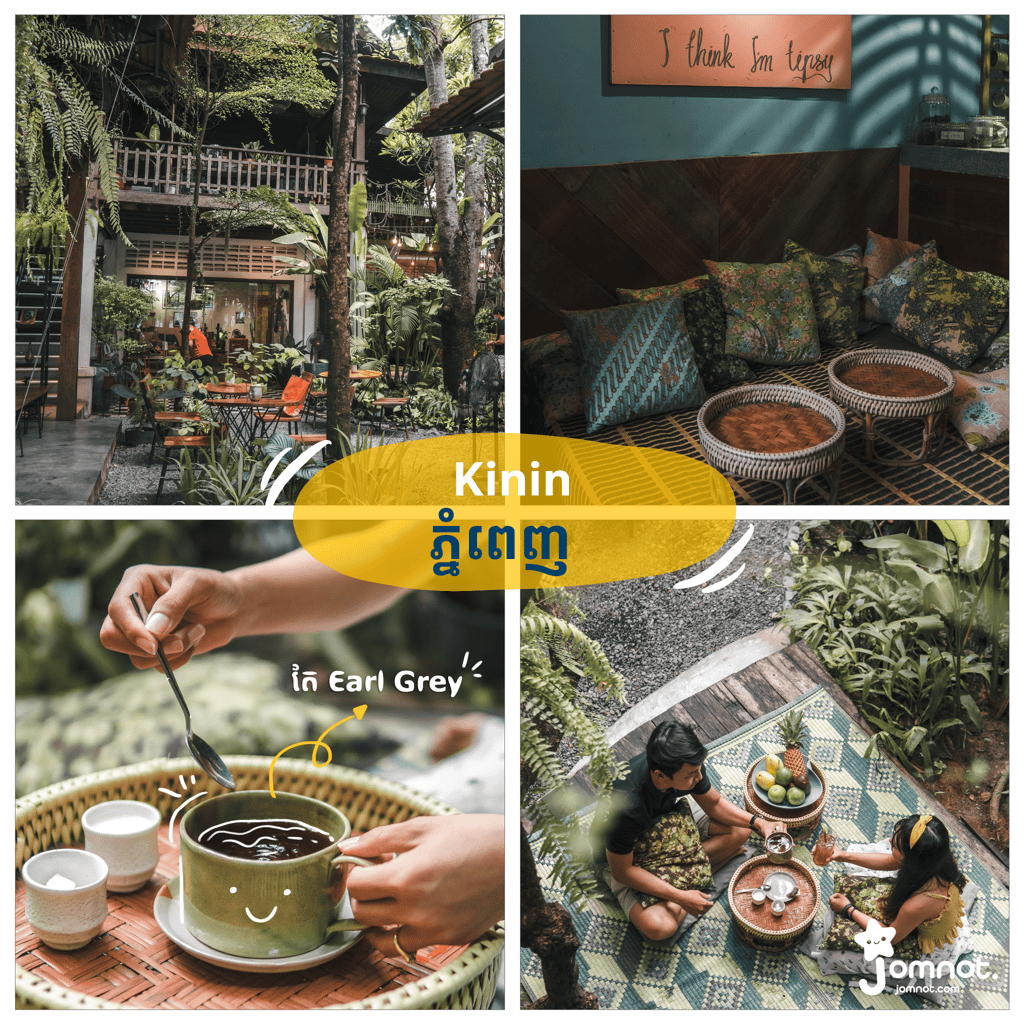 Kinin​ is the name of a type of plant that has a tall height and big tree branches. It can be found in a garden located in the middle of Kromoun Sar Blvd near Central Market. Seatings underneath the shades of tree branches are also available for customers to relish the coolness blow of wind at the coffee shops in Toul Tom Poung area. The Café named "Kinin" is a place that has pretty patterns like a park full of nature with big trees, paved with pebbles, and ancient houses that deliver refreshing feels to customers. Kinin​ is not only a coffee shop it is also a liquor shop as well as a restaurant.
Facebook Store: Kinin
Location: https://goo.gl/maps/161ba5RKCzkPEYKD7
18. The bean embassy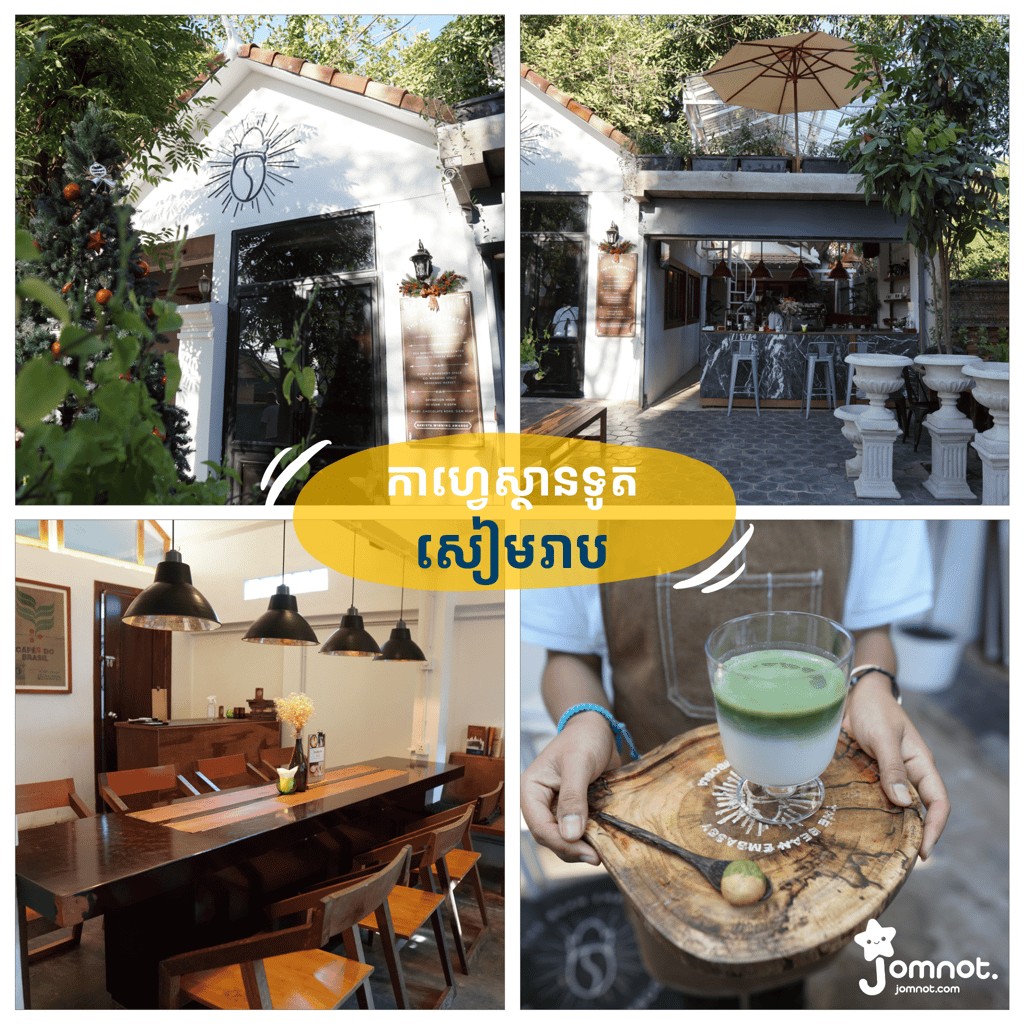 Facebook Page: The Bean Embassy
Location: https://maps.app.goo.gl/UHfzfAAhtfTFngwGA
19.Dialogue Cafe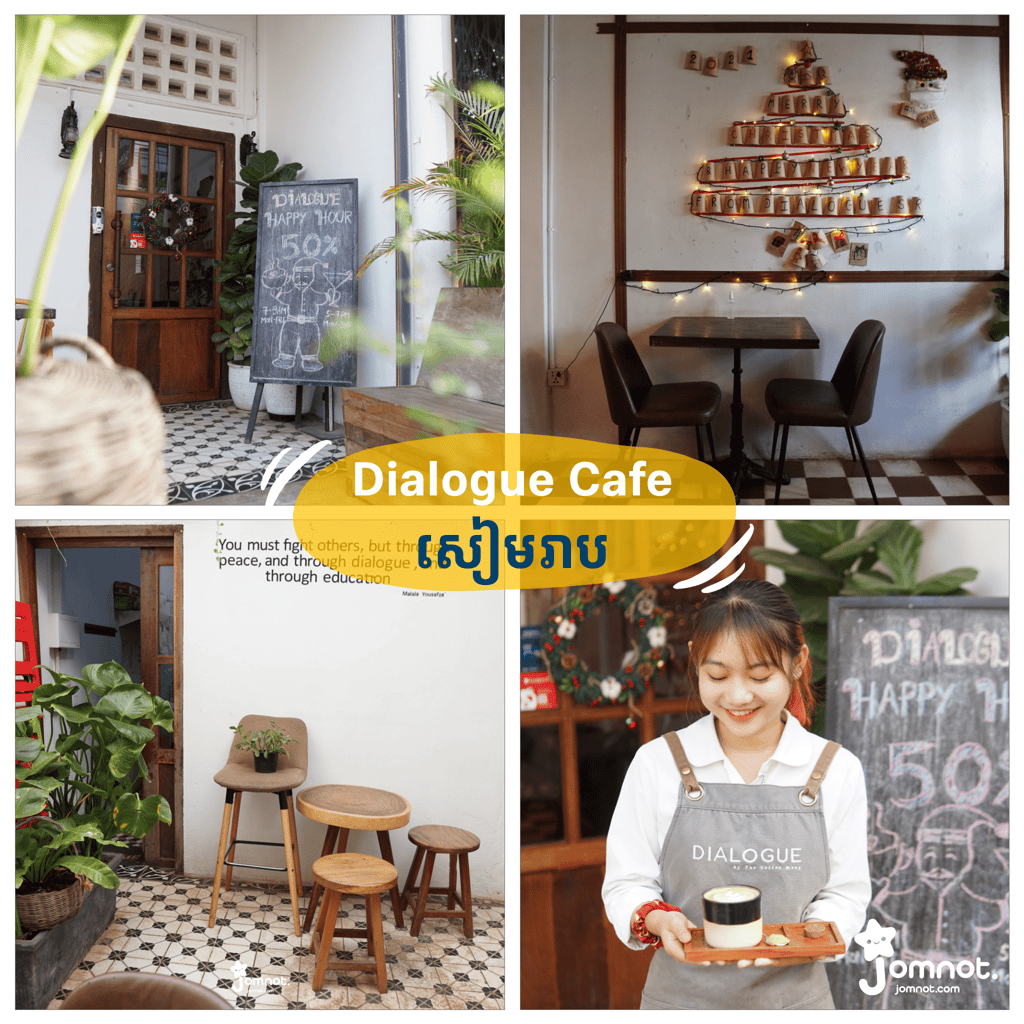 Facebook Pack: Dialogue Siem Reap
Location: https://maps.app.goo.gl/53N8et4TVHzrLiZV7
Telephone number: 070 903 107
20. Cafe kber robang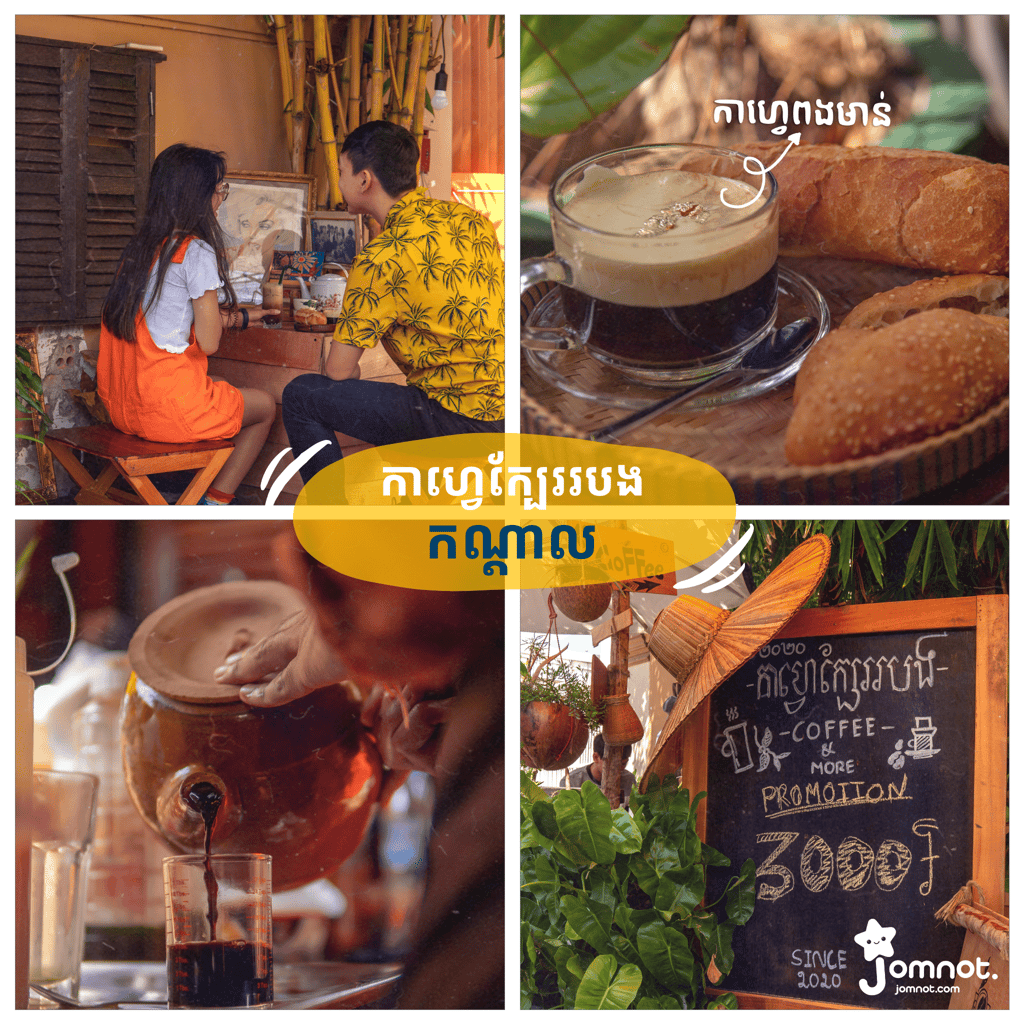 Facebook: The Fence Coffee
Location: https://goo.gl/maps/dXdCHMPhMVjo9yPf6​
21. Cafe Ler Phnom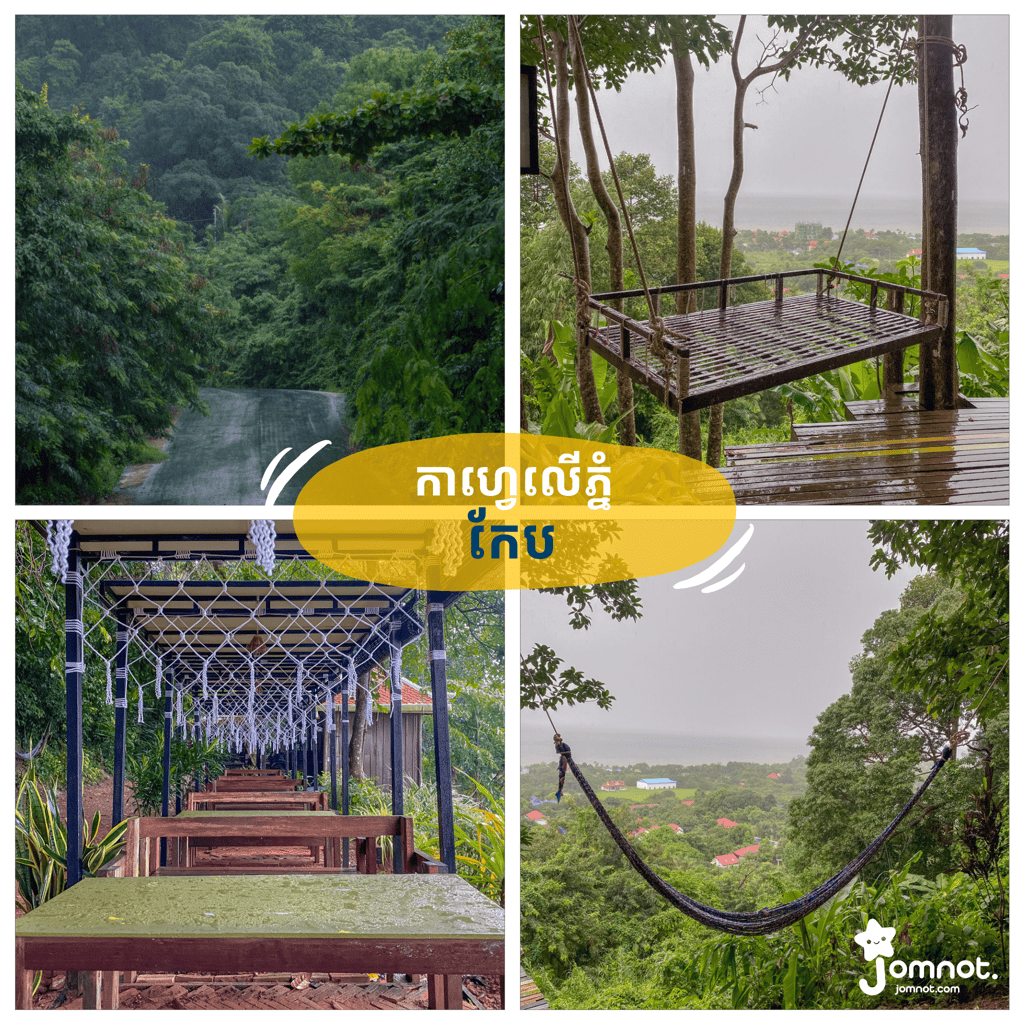 Business hours: 10AM–6:30PM
Map: https://goo.gl/maps/4u2PWhEjJwWCsBBMA
22. Amarak Farm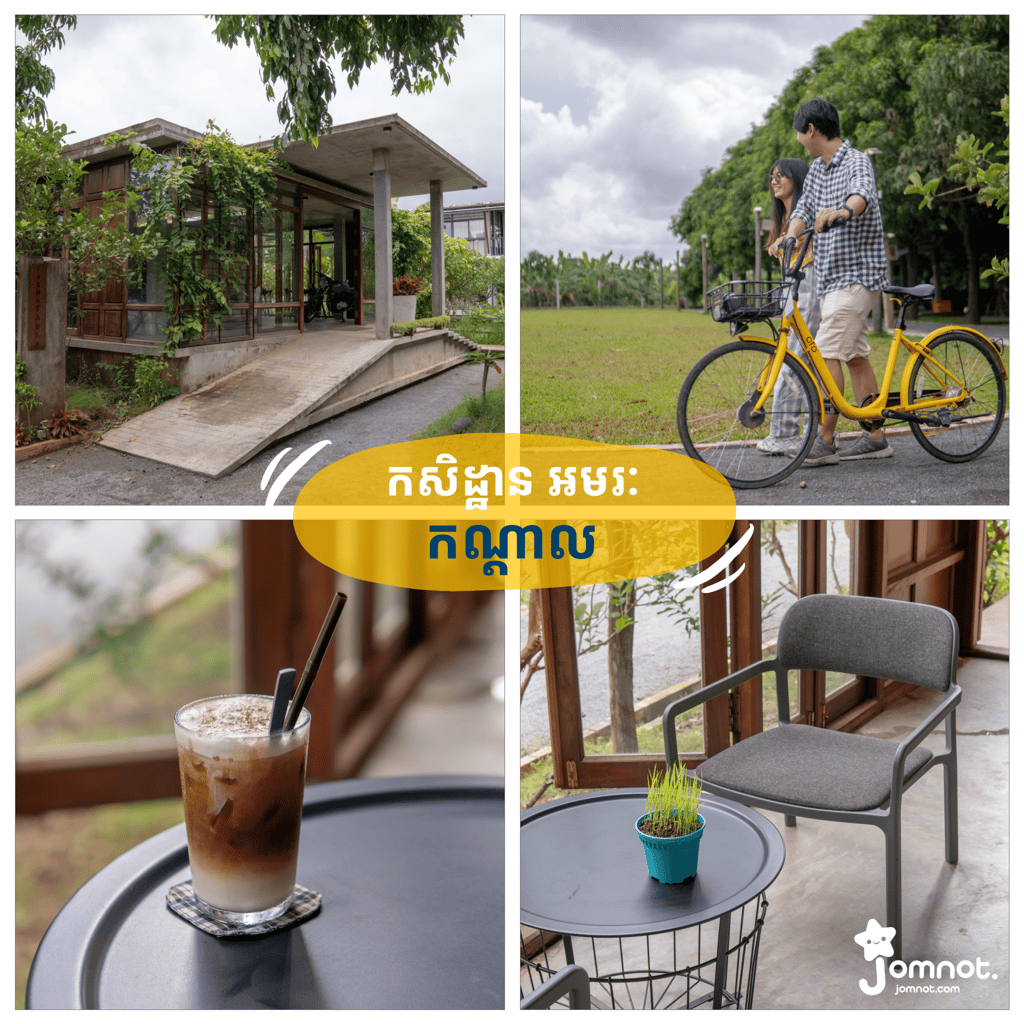 Facebook Page: Amarak Farm
Location: https://goo.gl/maps/jp7zj797yBkT3gXX8
23. Kong Say Cafe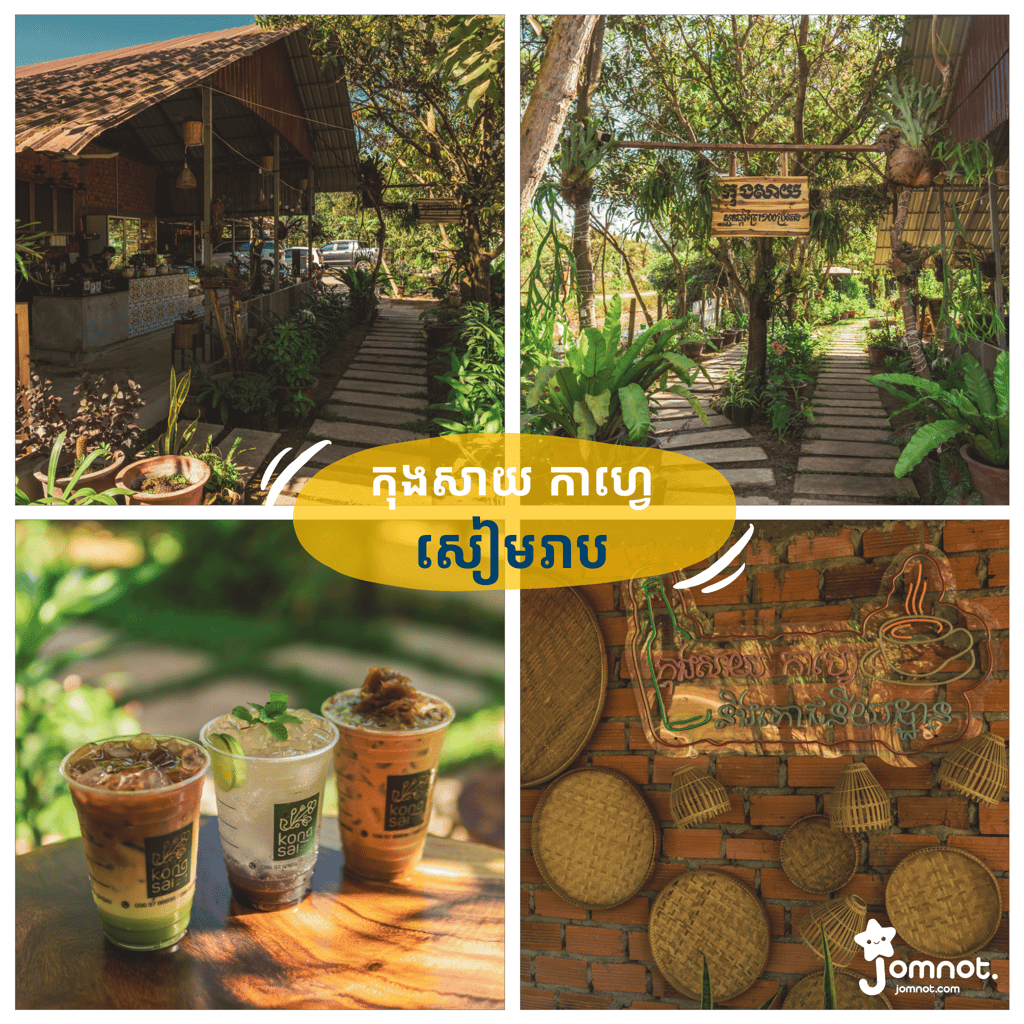 Ring! Kring! Come and drink coffee in the forest, sit and drink coffee in a quiet environment surrounded by plants. Most likely, if you come to Siem Reap, do not forget to visit the coffee shop and restaurant, there are many delicious drinks,Coffee, tea and soda. while the food is mouth-watering in all kinds, especially noodles, Khmer soup, curry, real Khmer taste, don't you dare to visit them, they are wait for you to visit.
Facebook Page: Kong Sai Cafe & Resto
Location: https://goo.gl/maps/3ypXaHCmsudAhHYC8
Opening hours: 7:00 AM - 7:00 PM
Telephone number: 088 228 8886